Do you want to train functionally with fitness bands? Then try the FLEXVIT app now! With over 400 exclusive exercises for your functional training, follow-along videos and complete workouts, you will make progress quickly. Regardless of whether you are a beginner or an advanced athlete – the FLEXVIT app offers exercises and training plans for all fitness levels and every band. Start your functional training experience today and download the FLEXVIT app.
Start your training now
Get the FLEXVIT app now
With the FLEXVIT app you have access to over 400 exclusive resistance band exercises for your functional training. You can filter the exercises by band type, body region or movement pattern and easily put together your individual workout.
And the best thing: you don't need any expensive equipment - your fitness bands are enough. Discover the versatility of Functional Band Training and design your training according to your wishes and goals. With FLEXVIT you always have your personal trainer with you!

Variety
With the FLEXVIT app you have a huge selection of exercises and workouts available so that your training never gets boring.

New Content
The FLEXVIT app regularly offers you new workouts and content so that you can always try something new and develop yourself further.
Daily 7
The FLEXVIT app is based on our functional training concept and trains you to think in terms of movements instead of isolated muscles.

Community
In the FLEXVIT Community you can share your workouts and be inspired by exercises and workouts from like-minded people.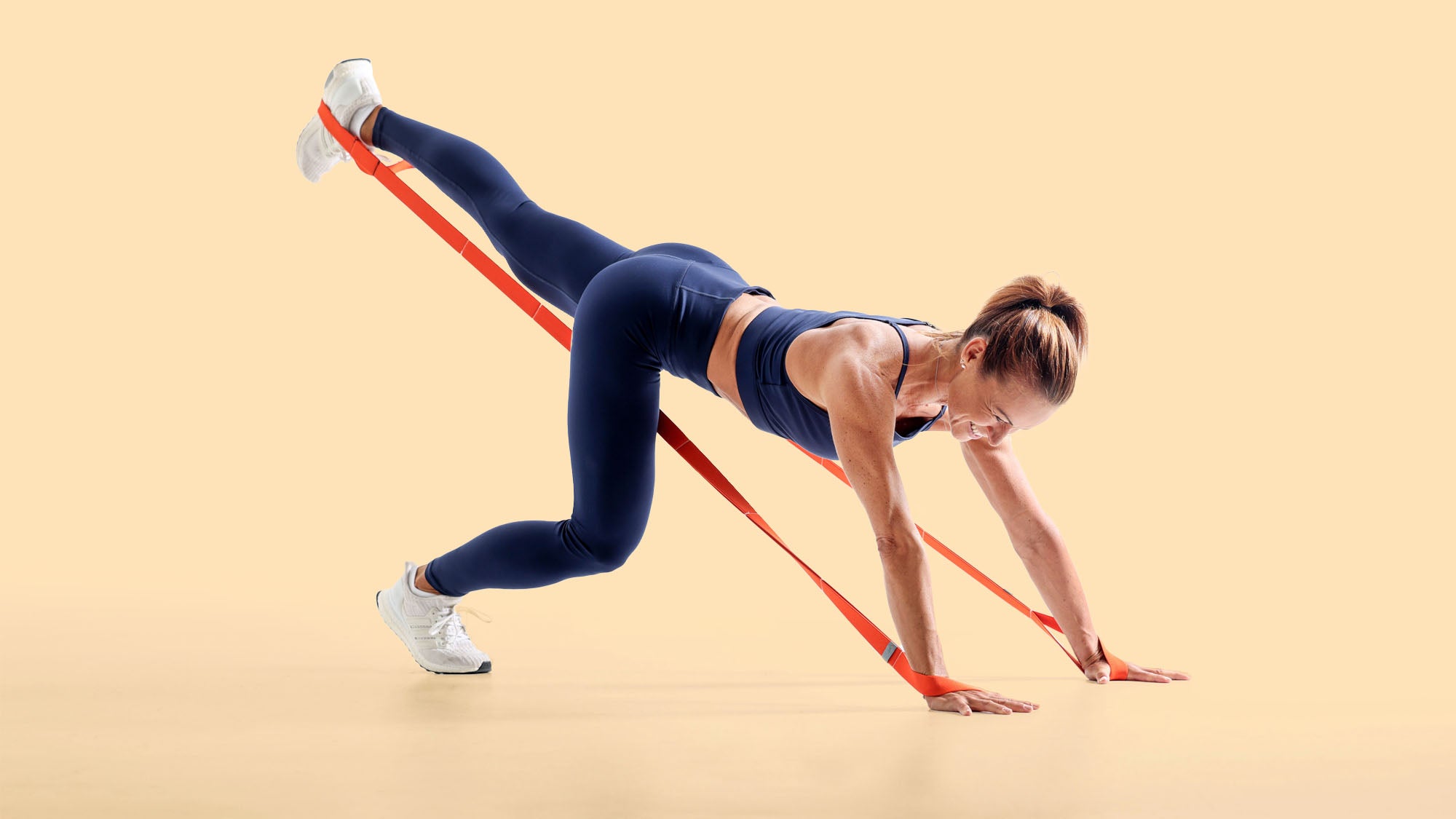 Discover Functional Band Training
With over 400 exercises
I am a personal trainer and am happy to recommend the FLEXVIT app to my customers. You can also train at home between our sessions and get fit even faster. My customers are thrilled.
At first I was skeptical about training with bands, but the FLEXVIT app convinced me. The exercises are well explained and I really feel how I am training my body.
The FLEXVIT app is simply great! I really like the colors and design and it's very easy to use. This makes training really fun
A MUST FOR FUNCTIONAL BAND TRAINING
This is how our app supports you
Find exercises for your bands
Find exactly the right exercises for the FLEXVIT bands that you have on hand and never again wonder what exercises you can do with the bands!
Filter exercises by categories and muscle groups
Use the filter function to select exercises based on the DAILY 7 movement patterns or find exercises for specific muscle groups and then add them to your personal workout.
Videos to join in and sport-specific exercise series
Discover follow-along videos and sport-specific exercises from professional trainers in the media library with explanations and instructions for even more training variety.
Knowledge directly in the app
Get direct access to knowledge and information about Functional Band Training directly in the app and stay up to date with current articles and new workouts.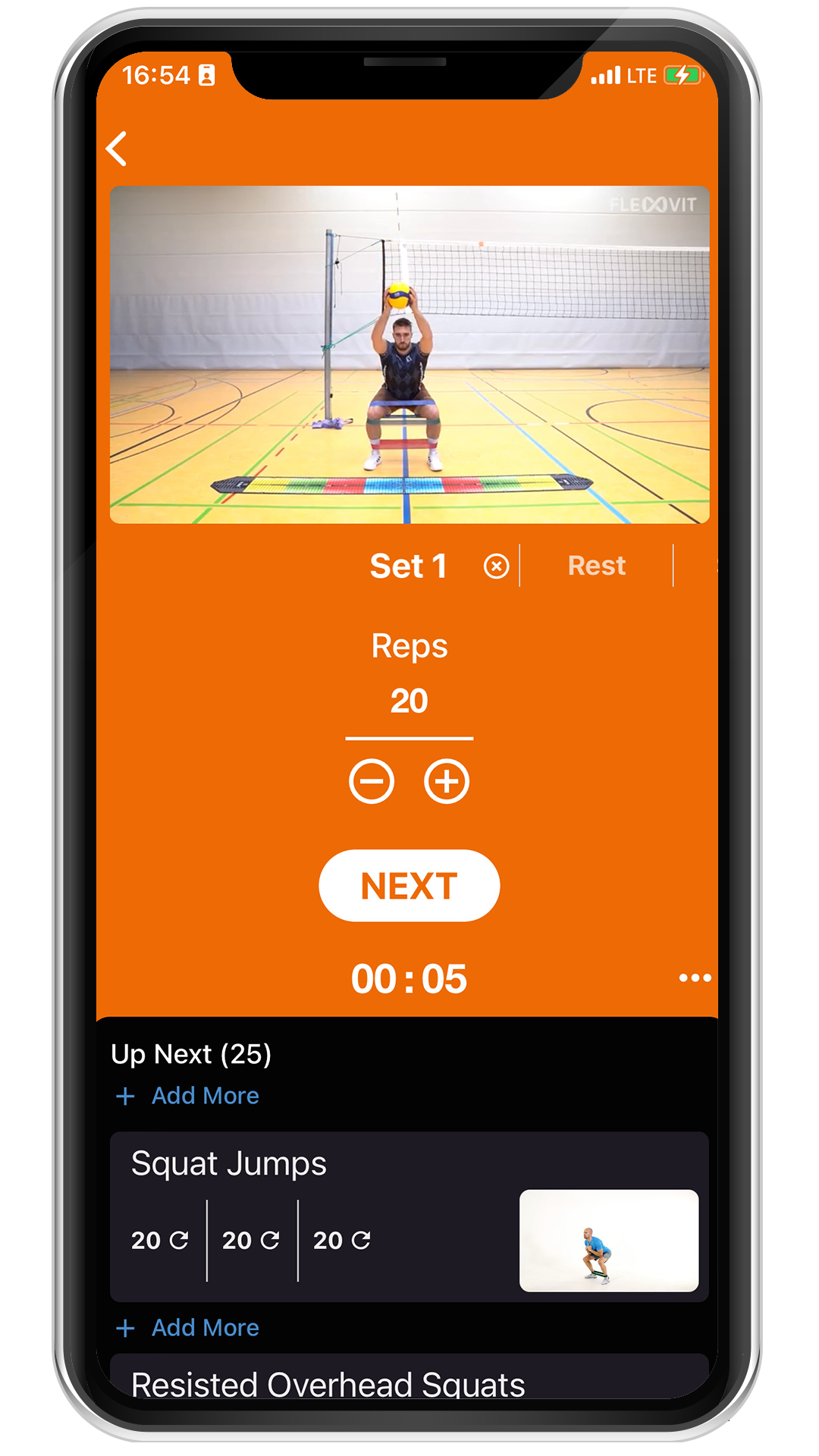 Ready-made workouts for your training
Use the workouts with video instructions and predetermined sets, repetitions and times to optimize your training and constantly challenge yourself.
Always at your side - the FLEXVIT app
Your ideal companion for training
If you are looking for a reliable and versatile training partner, then download the FLEXVIT app now! Get access to hundreds of exercises and training plans tailored specifically to your needs.
No matter whether you train at home or in the gym - with the FLEXVIT app you always have your personal coach with you. Don't miss any news and be part of a large community that fights together for its goals. Download the FLEXVIT app now and start your Functional Band Training!
Systematic training
Get to know our DAILY 7 concept
In life, as in sport, it is always about movement. That's why we developed the DAILY 7 concept. In our FLEXVIT app, all exercises are categorized based on the seven basic human movement patterns!
This is how you learn to think in terms of movements instead of muscles. Training a single muscle or a component of a muscle is only very rarely useful for the functioning of the human body (e.g. in rehab after surgery on a specific part of the body).

With the FLEXVIT app you train functionally and holistically. At the same time, you can use the huge exercise database to make your training varied and challenging - and have a lot of fun doing it!

Squat
A flexion or extension of the knees (dominant) and hips (slightly) while keeping the feet on the floor.

Lunge
A step in any direction with one foot while the other remains stationary.

Hinge
A flexion or extension of the hips (dominant) and knees (slightly) while keeping the spine straight.

Push
The movement of an object away from the body, or the movement of the body away from an object.

Pull
The movement of an object towards the body, or the movement of the body towards an object.

Twist
A rotation of the body around at least one of the three axes of movement.

Plank
Holding a static position with the body against gravity with a maximum of four points of contact (e.g. hands and feet).
Use our app now
Your advantages:
✓ News feed with contributions from other FLEXVIT fans

✓ Discover new exercises

✓ Create your own workouts and training plans

✓ Various exercises for each FLEXVIT band

✓ Professional exercise videos and tips

✓ Current posts and challenges in the app
Available in the App Store and Google Play Store for your smartphone: Discover new exercises and train with our functional workouts! And the best thing: Together with the FLEXVIT community, we are constantly developing our exercise database!
Get to know the exercises of the professionals
The right exercises for your training
With FLEXVIT bands and the app for functional training you can train anywhere! In addition to many basic exercises, in the FLEXVIT app you will find real exercises from professional athletes that you can incorporate into your workout.

Always set new stimuli in your training. Strengthen and mobilize various muscles for efficient movements! You will find explanations and tips for the exercises to help you carry them out correctly. And if an exercise becomes too easy for you, then you probably need a stronger band!

Your training partner
Download now & start training