Revolve
- Optimal training tool for rotation and anti-rotation exercises
- Optimum compromise between Multi & Resist
- Enables demanding full-body workouts
Option:
Single - basic (Light grey)
A compromise without compromises - our FLEXVIT Revolve
Our FLEXVIT Revolve is the optimal compromise between the FLEXVIT Multi and the FLEXVIT Resist. Thanks to its compact size, the fitness band fits in any trouser pocket.

Our superband, made of textile-woven rubber, is suitable for full-body training, but is also the right choice if you want to target specific parts of the body.

With our FLEXVIT Revolve fitness band, rotation and anti-rotation exercises in particular can be optimally performed - for holistic core training.

The most important things at glance:
Compact and easy to take with you

Can be combined with wall bars, poles or branches in no time at all

With the Door Anchor, the Revolve turns any door into a training station
Size:
light grey, green and blue approx. W 30 mm x L 100 cm
black approx. W 40 mm x L 100 cm

Colors / Resistance:
light gray - light
green - moderate
blue - strong
black – extreme

Strain:
light grey, green and blue each approx. 230%
black approx. 210%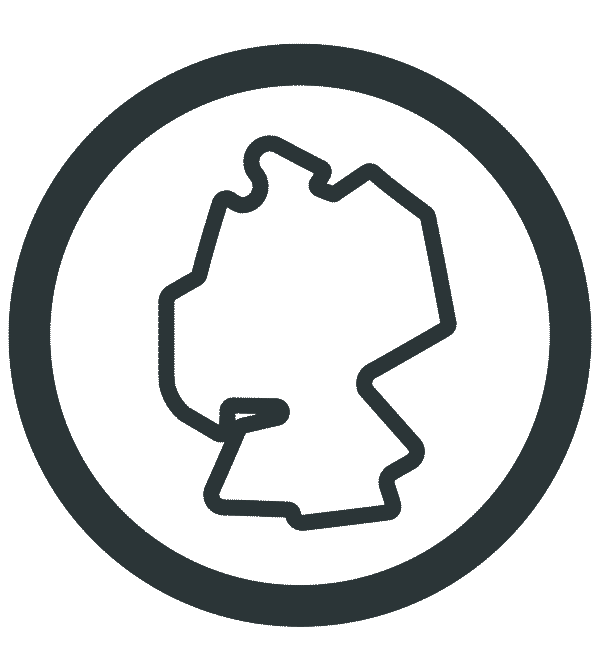 Made in Germany
Our products are manufactured in Germany using the latest technology and in compliance with the highest quality standards.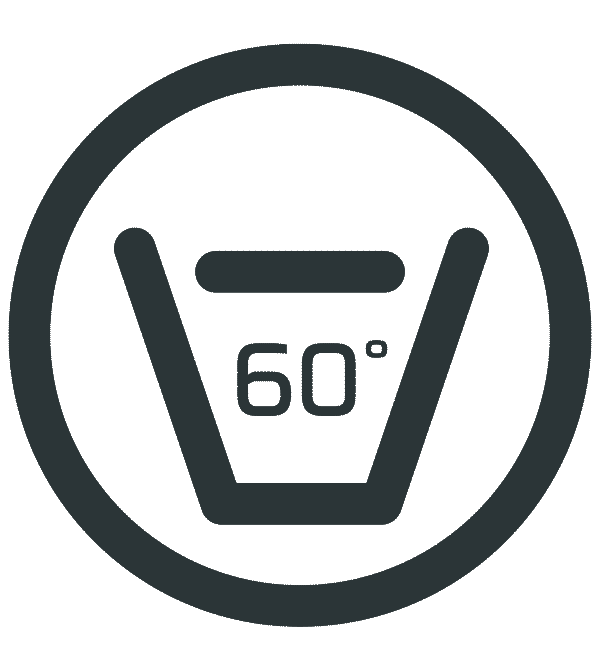 Washable up to 60°
FLEXVIT bands can be washed at up to 60°C and therefore leave no doubts when it comes to hygiene.
Allergy friendly
Thanks to the special textile material, there is no skin contact with the rubber during training, which also enables training with latex allergies.
Certified Bands
All FLEXVIT bands are manufactured under high quality standards and have been awarded OEKO-TEX® and hygiene certificates.
Discover over 400 exercises now
The FLEXVIT App for Functional Band Training
With the FLEXVIT App you have access to more than 400 functional exercises with resistance bands. Put together your personal workout or let yourself be inspired by training plans from the community. Regular new posts and workouts ensure that you stay motivated and move functionally. Download the FLEXVIT app now and discover Functional Band Training!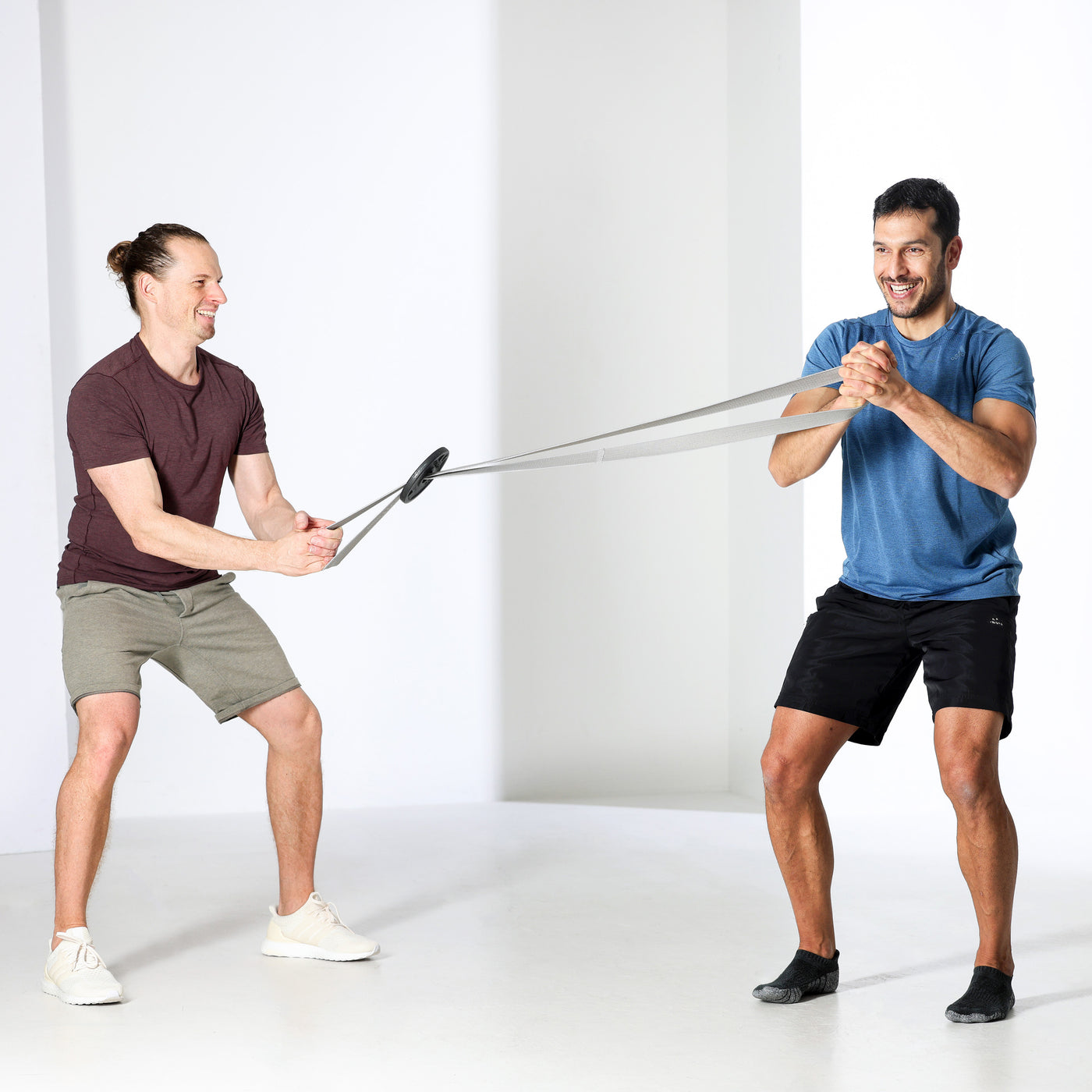 Meet our Superband
Learn more about the FLEXVIT Revolve
The FLEXVIT Revolve is similarly compact to our FLEXVIT Mini and can easily be taken anywhere. Exercises with your own body weight can be made more difficult with our FLEXVIT Revolve and are therefore significantly more effective.

Our FLEXVIT Revolve creates the perfect basis for functional training. A strong center of the body - a basic requirement for most functional exercises - can be optimally trained with our superband. Many basic functional movement patterns - such as push-ups or squats - can be easily intensified with our FLEXVIT Revolve.

In physiotherapy, our FLEXVIT Revolve is used from the first day on after surgery, such as a cruciate ligament tear. The different band strengths allow individual adjustment of the training intensity over the entire rehabilitation period.
This is how you train with our bands
Train with the Revolve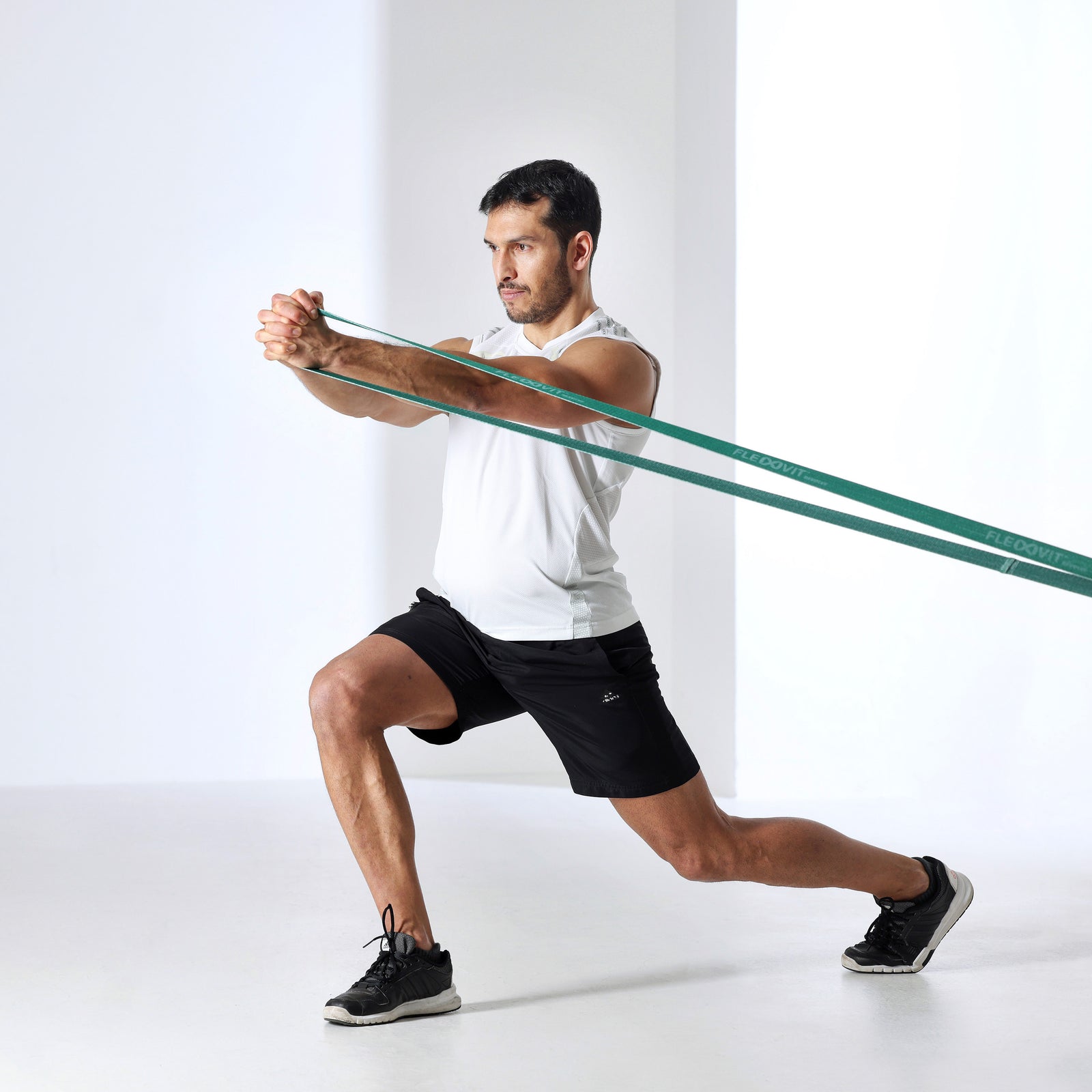 Anti-Rotation
The FLEXVIT Revolve is a versatile superband. It can be used to improve balance, core strength and lower body stability as well as rotation and anti-rotation exercises. The Pallof Press, for example, is an effective anti-rotation exercise that promotes core stability.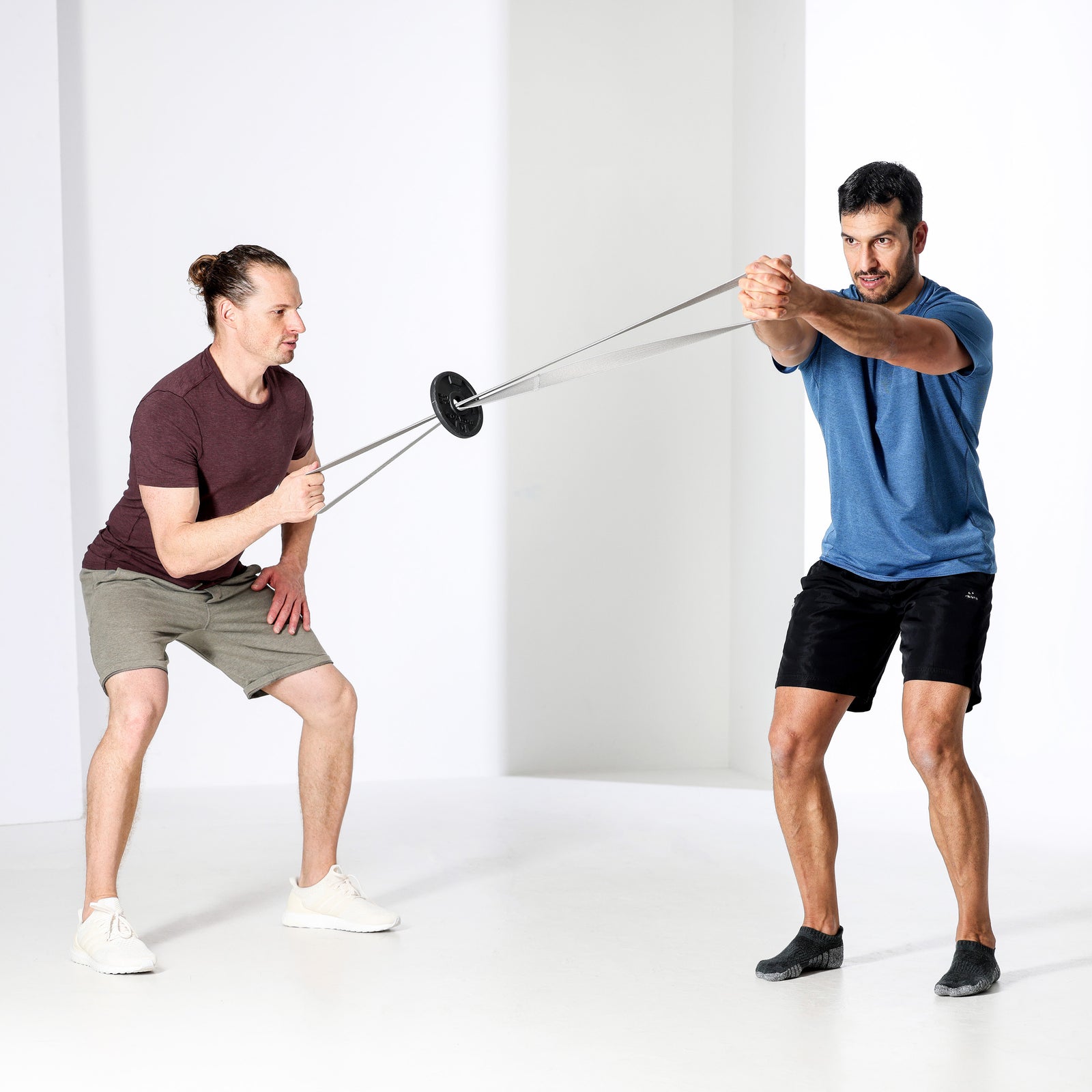 Neuroathletic Training
During neuroathletic training, the FLEXVIT Revolve in combination with a small weight plate can provide additional stimuli and help improve neuromuscular control. Personal trainers can use this technique to improve their clients' control, coordination and overall athletic performance.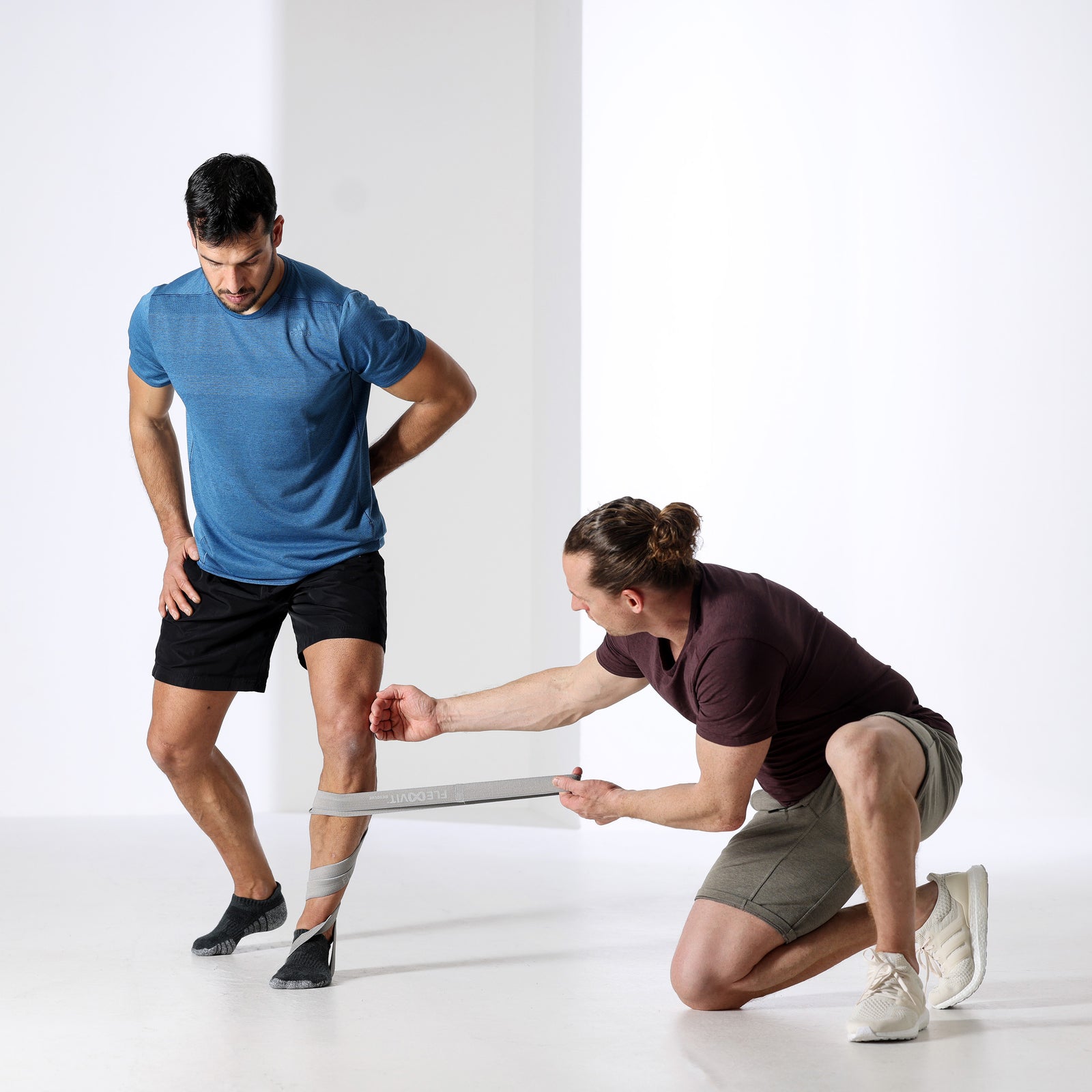 Rehabilitation and therapy
The FLEXVIT Revolve can also be used in therapy to specifically stimulate certain parts of the body, such as the knee. This can help improve strength, stability and range of motion, making it a valuable tool for rehabilitation and injury prevention.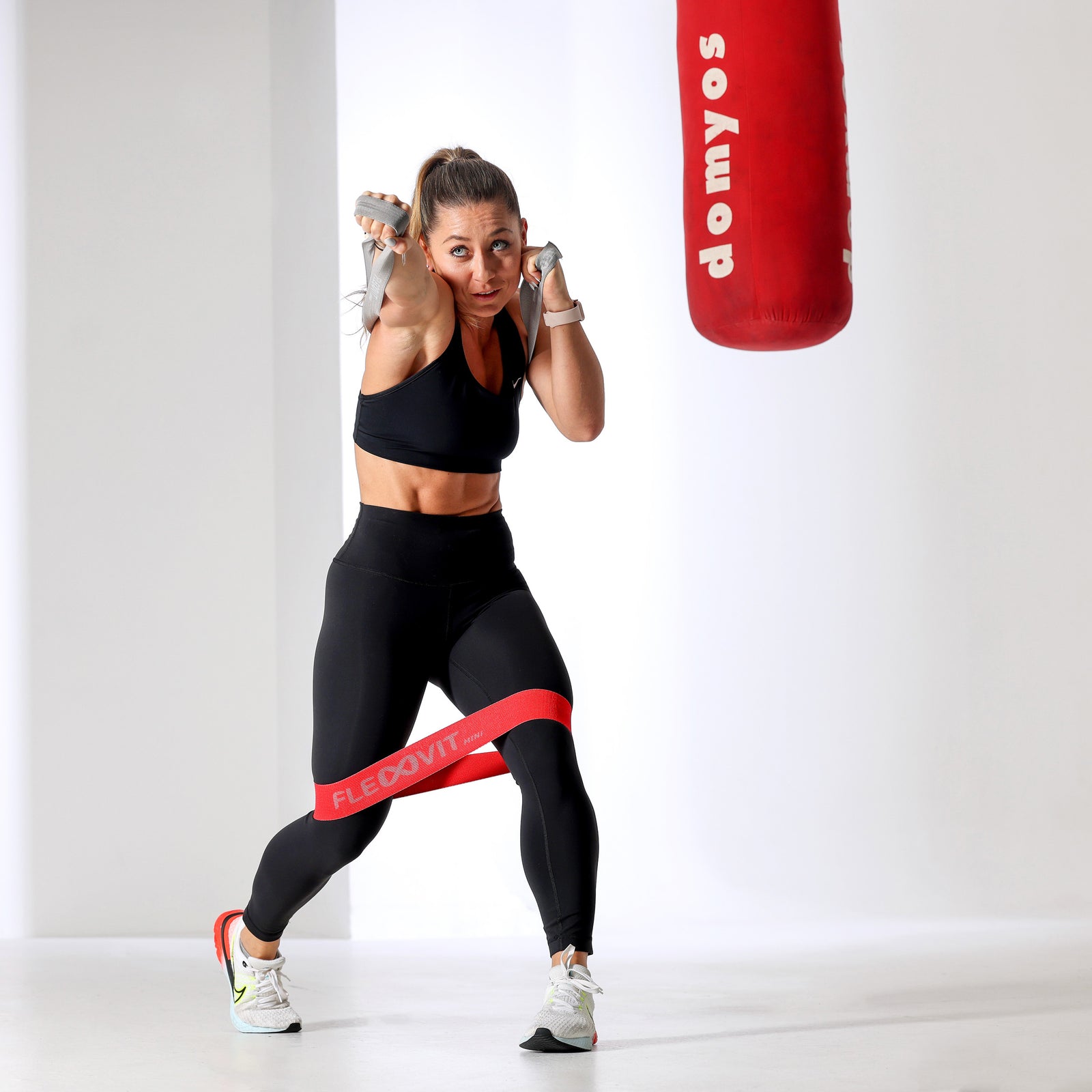 Athletic Training
With its length, the FLEXVIT Revolve can be optimally guided around the back in order to have resistance with every punch during boxing training, for example. This not only improves strength and speed, but also engages the core muscles, helping to develop explosive and versatile punching power.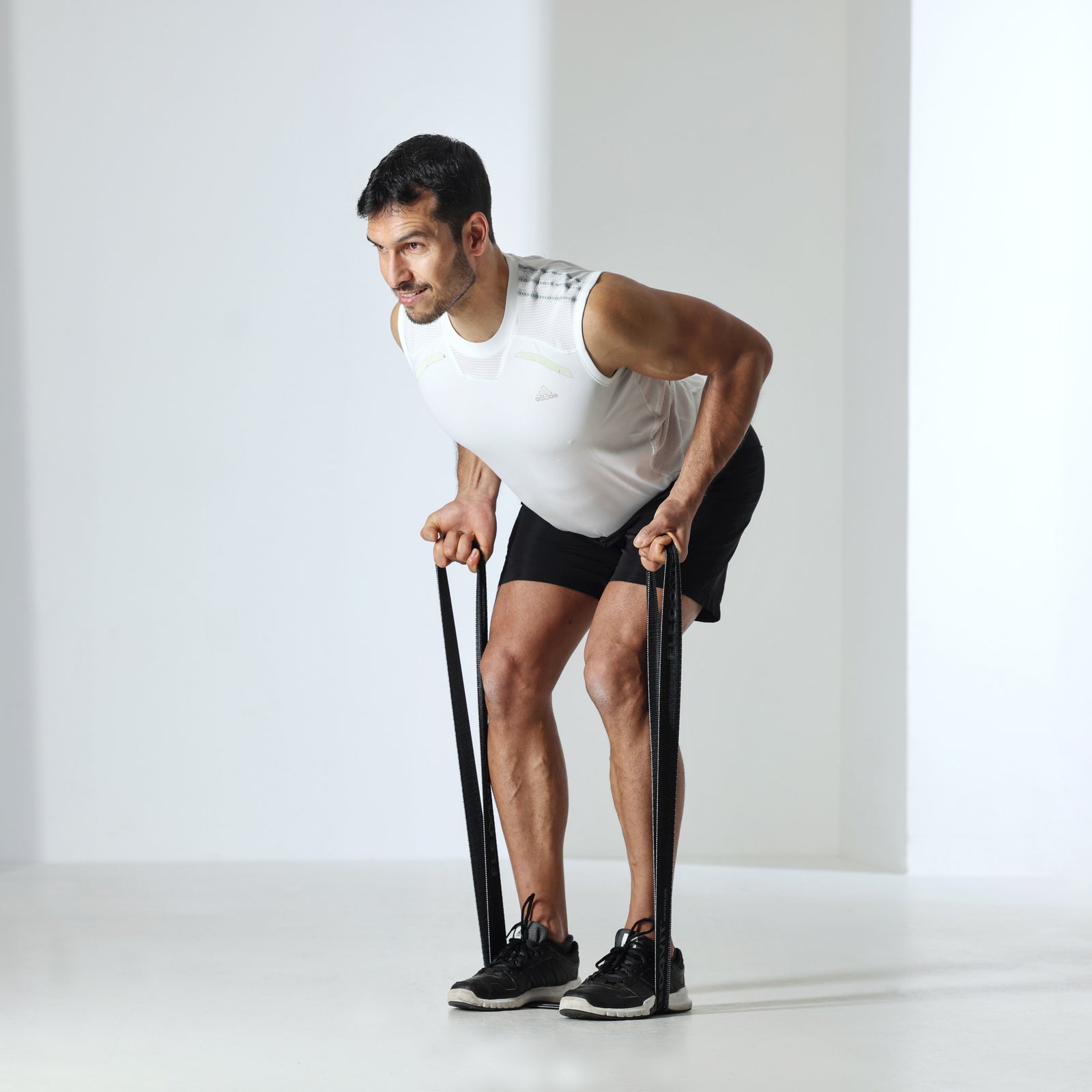 Strength Training
The FLEXVIT Revolve is also suitable for pure strength exercises. Examples of exercises include bent-over rowing and deadlifting. The progressive resistance of the band (the more stretched the band, the more resistance) can be used to specifically target specific areas of range of motion.
That's what our customers & partners say
Carsten Effertz
We use the FLEXVIT bands in our training with young talents. Ideal for training. Easy to use and can be used anytime, anywhere.
Tanner Speed ​​Academy Gothenburg
Max Hauser
The best quality straps: last the longest and don't lose tension. Pleasant on the skin during training. A small gym for on the go.
Head Coach WWK Volleys, Volleyball Bundesliga
Florian Sölter
Even after several units and sometimes resin stains, they remain robust and resistant! Really great products!
Athletics coach MT Melsungen, Handball Bundesliga